Armytek Wizard Pro Magnet USB

Compact and light, but at the same time reliable and multifunctional flashlight with Magnet-USB сharger. Headband will increase the possibilities for applying such accessory for everyday tasks and will keep your hands free. With AHM-02 it will be an indispensable assistant in the area of construction. And bicycle mount ABM-01 will reliably keep your flashlight on the handlebar. Multi-flashlight is suitable for using in different fields: auto, fishing, bike, running, etc.
Brightness up to 1800 OTF Lm.

Beam distance up to 130 m.

Up to 200 days of light with one power source.
18650 Li-Ion battery and USB charger are in the set.
Light & Optics
Stabilization of brightness

The completely new second-generation driver S-Tek™ enables the flashlight to emit bright and constant light even when the battery 18650 Li-Ion is almost discharged.

:
FULL (constant brightness)
Body & Durability
Waterproof & Submersible:
Modes & Electronics
Power source:
1x18650 Li-Ion
Runtime for maximal mode:
1h
Runtime for minimal mode:
200 days
Ability to use batteries with a flat contact:
Protection from accidental switch-on: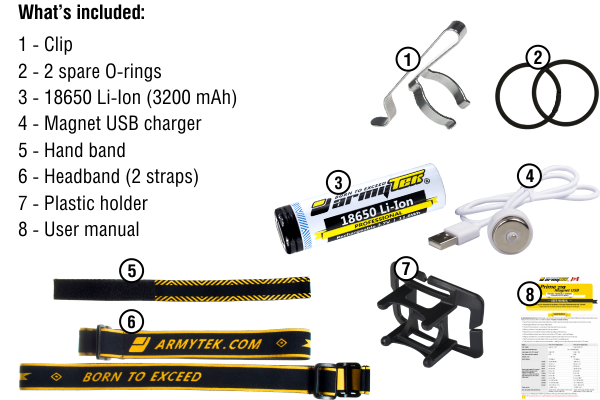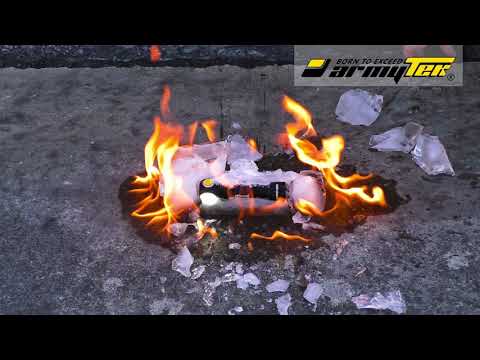 Wir haben den Armytek Wizard mit Feuer, Wasser, Eis getestet und fuhren sogar mit dem Auto
Was denken Sie, hat Armytek Wizard mit dem Test ausreichend zurechtgekommen?
Bedienung der Taschenlampe Armytek Wizard Pro Magnet USB
Im Video wird Wechsel zwischen den Leuchtstufen der Stablampe Armytek Wizard Pro Magnet USB ausführlich gezeigt