Armytek Tiara C1 Pro Magnet USB (warm light)

Compact and light, but at the same time reliable and multifunctional flashlight with Magnet-USB сharger. With AHM-02 it will be an indispensable assistant in the area of construction. And bicycle mount ABM-01 will reliably keep your flashlight on the handlebar. Multi-flashlight is suitable for using in different fields: auto, fishing, bike, running, etc.
Brightness up to 840 OTF Lm.

Beam distance up to 102 m.

Able to function with one power source up to 60 days.
18350 Li-Ion battery and USB charger are in the set.
Light & Optics
Optics

The reflectors of Armytek flashlights have been modeled and calculated in computer software for the design of optical systems that enabled to produce a flawless light beam for a long-range distances. Flashlights with TIR optics provide smooth wide beam without distinct hotspot and sharp edges.

:
TIR-optics
Stabilization of brightness

The completely new second-generation driver S-Tek™ enables the flashlight to emit bright and constant light even when the battery 18650 Li-Ion is almost discharged.

:
FULL (constant brightness)
Body & Durability
Waterproof & Submersible:
Modes & Electronics
Power source:
1x18350 Li-Ion
Runtime for maximal mode:
30min
Runtime for minimal mode:
60 days
Ability to use batteries with a flat contact:
Protection from accidental switch-on: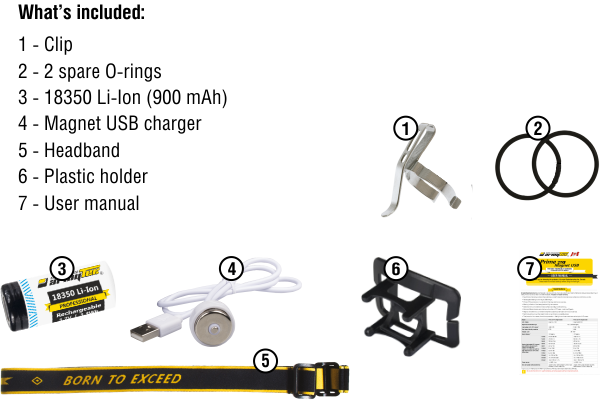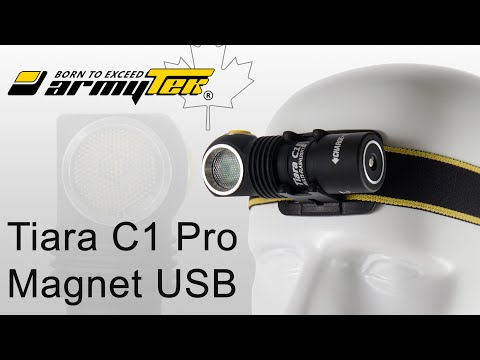 Armytek Tiara C1 Pro Magnet USB Videovorschau
Kompakte, multifunktionale Stirnlampe ist das alles über Armytek Tiara C1 Pro Magnet USB.
Die Taschenlampe braucht nur einen Akku 18350 Li-Ion und ist mit einem USB-Kabel leicht wiederaufladbar. Magnet auf hinterer Kappe, geeignete Stirnhalterung, abnehmbarer Halteclip, mögliche vertikale Montage schenken ihrem Besitzer ein wirkliches Verwendungsvergnügen in unterschiedlichen Situationen.