Armytek Elf C1 Micro-USB

Small flashlight that easy fits into the pocket for resolution of everyday tasks. Headband will increase the possibilities for applying such accessory for everyday tasks and will keep your hands free. With AHM-02 it will be an indispensable assistant in the area of construction. And bicycle mount ABM-01 will reliably keep your flashlight on the handlebar. Multi-flashlight is suitable for using in different fields: auto, fishing, bike, running, etc.
Brightness up to 900 OTF Lm.

Beam distance up to 106 m.

Up to 200 days of light with one power source.
18350 Li-Ion battery in the set.
Body & Durability
Waterproof & Submersible:
Modes & Electronics
Power source:
1x18350 Li-Ion
Runtime for maximal mode:
40 min
Runtime for minimal mode:
54 days
Ability to use batteries with a flat contact:
Protection from accidental switch-on: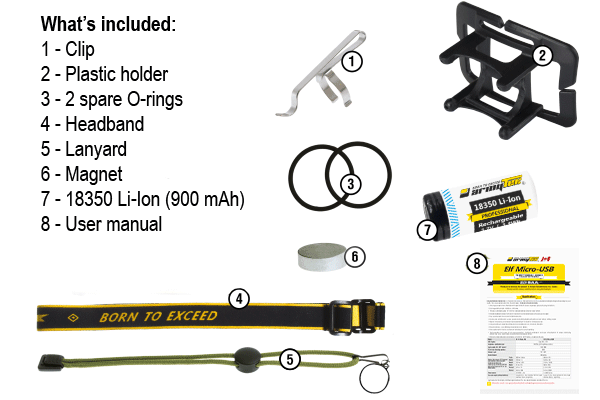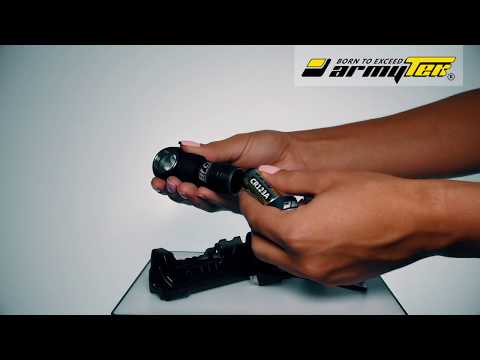 Armytek Elf C1 funktioniert auch ohne Akku
Wenn Sie eine leere Batterie haben oder ein Akku verloren haben, gibt es einen Ausweg. Armytek ELF C1 funktioniert ohne Akku von der Powerbank oder über ein Micro-USB-Kabel aus dem Netzwerk. In dem Video haben wir als Powerbank ein Armytek Handy C1-Ladegerät und einen Armytek 18650 Li-Ion-Akku verwendet.